Your StrapsAway Selection
Baby Gift Boxes
Simply Sage Gift Box

Regular price

Sale price

$83.00

Baby Blue Gift Box

Regular price

Sale price

$83.00
"With a 1yo and a 4yo who hate their seats, these bypassed luxury and became a necessity."

Deborah S.
What Are StrapsAway?
StrapsAway are magnetic pins that fasten to the fabric of an infant or child car seat and hold the buckles and straps out of the seating area. When your child is placed into the seat, the buckles and straps are held conveniently to the side. No longer will the child sit on top of an uncomfortable mess, and no longer will you have to dig for a tangle of belts and buckles from underneath your child.
Each set includes a pair of 3.8 cm (1.5 inch) magnetic buttons. On the back side is a pin and childproof clasp used to fasten the button to the side fabric of the car seat. (see 'Installation' for details). Then, the buckles on the ends of the straps are placed on the magnetic buttons, and are securely held in place.
It's that simple!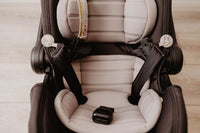 We make the best product possible ...
Most attractive. Most choice in design. Most compact. Strongest magnets. Easiest and most secure fastening. Free shipping within Canada. Portion of proceeds to charity. Six month money back guarantee.
Handcrafted in Calgary, Canada.